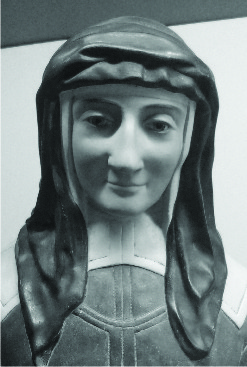 Many community health centers bear the names of pioneers who devoted their lives to improving access to health care and serving our most vulnerable people. We believe that the stories behind these names are inspiring and instructive and want to share them with our friends and colleagues. This time we honor St. Louise de Marillac, whose name graces Marillac Health in Colorado. We are grateful to Lata (Kay) Ramachandran, MA, and the staff of Marillac Health for their compassion and commitment to the people of Mesa County, Colorado.
St. Louise de Marillac was born in France in the late 1500's. Educated by Dominican nuns, she planned to become a nun herself, but was convinced to marry. After her husband's death, she met St. Vincent de Paul, who became her spiritual advisor. For the remainder of her life, she worked with him to care for the poor and sick. St. Louise set up a center in her own home to train others to work with her, thus beginning the Daughters of Charity of St. Vincent de Paul. After taking her own vows, St. Louise became the superior of her own order and traveled all over France placing her Sisters in hospitals, orphanages, and other locations. Since her death, her Congregation spread through the entire world, including America. She was canonized in 1934 and is the Patroness of Social Workers.
During the 1980s, with an energy "bust" deeply affecting the Mesa County, Colorado community, thousands of residents lost their jobs and their health insurance. Community leaders gathered to address the medical needs of these uninsured families.
Under the leadership of Sister Marianne Bauder, CEO of St. Mary's Hospital, this group created a "safety net clinic" with help from St. Mary's Hospital, the Sisters of Charity (St. Mary's parent organization), and other groups. The new clinic was named Marillac Health, after St. Louise, and opened its doors in 1988. Ever since, Marillac Health has built a reputation for innovation, compassion, and inclusivity. The clinic was designated a Federally Qualified Health Center in 2015. In 2017 , Marillac Health served 11,485 patients.
In 2018, Marillac Health celebrated its 30th anniversary. We know that the next 30 years will continue to be filled with innovation, service, and growth.
Sources: www.MarallicHealth.org; www.catholic.org/saints