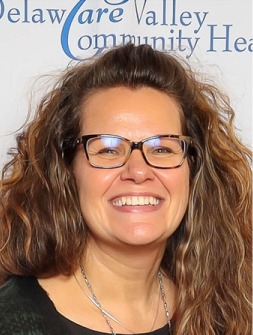 We are pleased to announce that the winner of Healthcare Hero 2020 competition is Kimberly Allen from Delaware Valley Community Health. Congratulations, Kim!
Tell us who you are nominating and what makes this person unique.
I am nominating Kim Allen who is our Chief of Quality and Innovation at Delaware Valley Community Health, Inc. I am nominating her because she has been an unsung hero throughout the COVID-19 pandemic for our organization. She has been the behind the scenes glue and support person as we quickly shifted and implemented both telehealth and telework. If not for her stable, systematic, level headed approach many of the small details could have been missed or not executed properly. She never asks for or is motivated by recognition, as her goal is serving our patients well. As a team we are only good as the sum of all the parts and she makes us better, stronger, and proficient. Her unique skill of deliberation to compromise for common purpose makes her special and one of a kind.
Tell us where they work and how they're impacting patients, healthcare communities and/or organization.
Kim Allen works at Delaware Valley Community Health, Inc in Philadelphia, Pa. We are a Federally Qualified Health Center who serves 50,000 patients and 150,000 visits. She is in charge of the quality in which we provide care and throughout the pandemic has been our lead nurse for our 4 COVID-19 test sites.
Thanks to everyone who took part and helped make this contest a massive success.
Runners Up for Healthcare Hero
Catherine Bell - True Health Sanford, Fl
Donna Smith – Sanford, FL
Geli Brown - Healing Hands Ministries Community Health Center, Dallas, TX
Laquisha Howard – Southside, Sanford, FL
Patricia Philippe – Community Health of South Florida, Inc., Miami, FL
Scott Rosenthal - Hulbert, Oklahoma
Stephanie Rodriguez - Luh Peds Sanford, FL
Tess Barbach - Ritter Center, San Rafael, Ca